So, which are the Kwale county sub counties as presently constituted?
Well, for starters Kwale is county number 002 and has a population of about 649,931. Kwale county is located in the former Coast province on the southern side.
Let's go through the various Kwale county sub counties and their respective wards.
Kwale County Sub Counties and County Assembly Wards
Matuga Sub county
Matuga has 5 wards namely Tsimba Golini, Tiwi, Kubo South, Waa, and Mkongani.
Kinango Sub county
Kinango sub county also has 5 wards as follows:
Ndavaya
Kinango
Chengoni/Samburu
Puma
Mackinon Road
Kasemeni and
Lunga Lunga Sub county
Lunga Lunga sub county comprises of these 4 wards:
Kikoneni
Dzombo
Vanga
Mwereni
Msambweni Sub county
Mswambeni (the former msambweni division ) is the last sub county in Kwale county and is made of the 4 county assembly wards named below:
Gombato Bongwe
Ukunda ward
Kinondo
Ramisi
Kwale County Map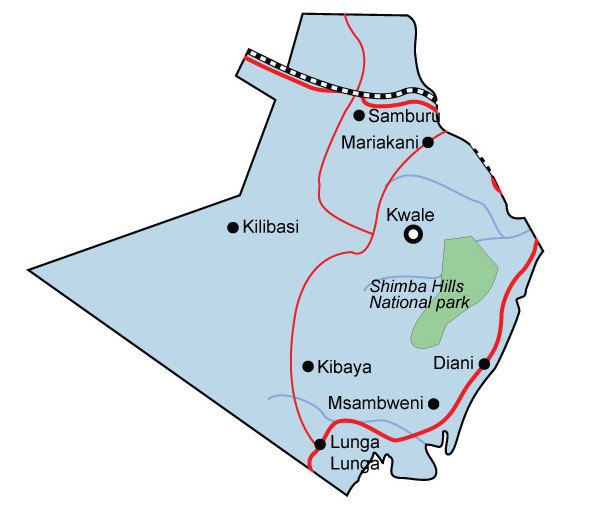 Important facts about Kwale County
Kwale County Population :
649,931 (2009 National census)
Kwale County Headquarters :
Kwale county government operations are headquartered in Ukunda town.
Kwale County size (surface area):
Kwale occupies  an approximated 8,270 Km2 area.
Economic Activities In Kwale County :
Main economic activities are: fishing, apiculture, mixed farming, commercial businesses, forestry, mining, and tourism.
Main attractions in Kwale County:
Tsavo national park, Mwaluganje Elephant Sanctuary, mangrove beaches, Shimba Hills National Reserve, Maji moto springs, and Sheldrick Falls.
Kwale County Sub Counties: Frequently asked questions
How many sub counties are in Kwale?
Overall, Kwale County has a total of 20 county assembly wards across the 4 sub counties in Kwale county.
Who is the governor of Kwale County?
The governor has been Salim Mvurya Mkala since 2013.
What county is Diani?
Diani is part of Msambweni sub county in Kwale and has one of the most breathtaking beaches in the World.
The Diani resort town has even been voted the 6th most beautiful destination in Africa in the past.
ALSO READ: