More Kenyans have turned  to SGR MPESA booking, thanks to its convenience.
Indeed, it's a drastic departure from the old times when you would have to travel to SGR stations just to pay for a ticket to the coast.
This means you can complete your SGR train booking from the anywhere in Kenya and at anytime.
With SGR MPESA booking, you receive your train ticket instantly in the form if an SMS.
Here are the steps to follow when making  SGR booking online.
As you'll notice, the SGR booking via Mpesa process is really straightforward.
SGR MPESA booking: Step-by-step Guide
Step 1: Visit the SGR ticketing website here
You will be taken to the Kenya railways SGR website.

Step 2: Choose Your Train
You start by choosing your preferred train type (inter-county/express), station you will be departing from, and the destination station.
Also specify the departure date (book up to 30 days before scheduled departure).
Then click book train.
The screen takes you here;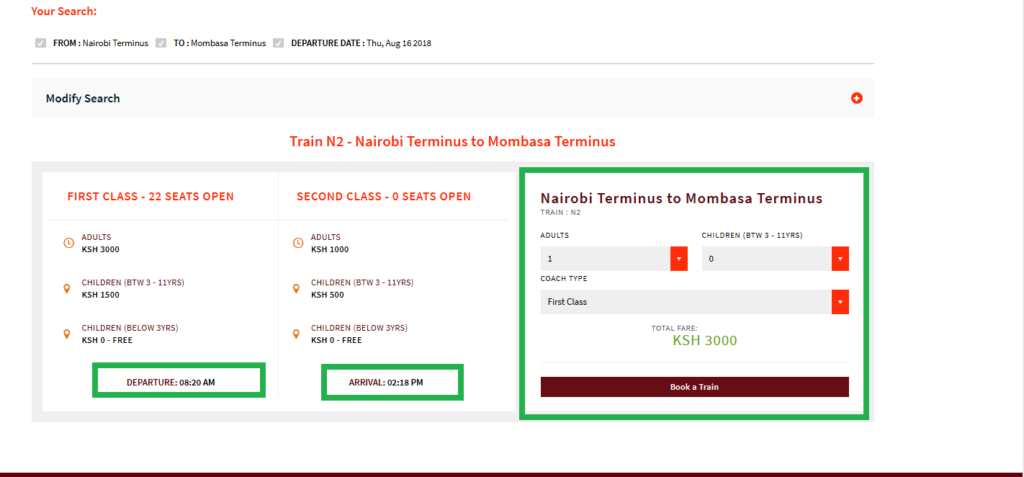 On the right hand side of the screen and near the bottom, choose the number of adults, number of children, and whether you will be travelling first class or second class.
The SGR train schedule will also be displayed showing the departure and arrival time.
Again click book a train.
Step 3: Complete the required details
In the next screen, enter your name (s), National ID number, and the nationality (for adults) and name, age, and nationality for kids.
Down there, enter the MPESA number you are paying the Kenya railways standard gauge ticket from and your email address.
Also, remember to check against the "I'M NOT A ROBOT" button plus the terms and conditions  checkbox.
Then choose pay now/later.
Step 4: Paying for the ticket  
If you choose the SGR MPESA booking pay now option, the book SGR online system will connect to your mpesa.
A message  will automatically popup asking you to key in your regular mpesa PIN number.
After that, you will receive a confirmation SMS which you will use to print out the SGR timetable and ticket at your selected on the actual date of travel.
If you select pay later depending on the SGR Kenya schedule , you will need to pay using the SGR paybill number by following the steps I explain next..
How to pay for SGR by mpesa (Paybill method)
Go to YOUR MPESA Menu on the phone.
Choose Lipa Na Mpesa
Select Paybill
Input SGR online Paybill No. 809888.
Input the Account No. (should be your ticker number as shown in the screen)
Enter the applicable amount and click confirm.
Wait for the Confirmation SMS from safaricom Mpesa.
That's how to book SGR online and pay via Paybill.
You will shortly receive your SGR booking number and tickets via SMS.
SGR tickets booking from the phone 
Amazingly, you can book for your SGR train from your phone- just in case you found the above SGR booking via Mpesa steps bothersome.
And you know what? The is the simplest booking method
You will simply dial *639# and follow the forthright instructions on the screen.
Note that you dial the above-mentioned SGR USSD code from your Safaricom SIM card since you need MPESA.
And as soon as you're done, you will get a confirmation SMS bearing your SGR account number.
You can note it somewhere since  you'll need it when printing the tickets (at the station/termini).
Difference between Madaraka Express and the Inter-County train
The Express train from Nairobi to the coast doesn't make any stops in any station along the way.
The train has 2 classes- first class & economy class and departs from either the Nairobi Terminus  or Syokimau Main Station.
Alternatively, it can be from Mombasa Terminus or the Miritini Main Station.
Travellers can always use a taxi or public transport to access the stations as on the material date as per the kenya railways train schedule
SGR Prices and other SGR Kenya Cost
SGR fares depend on the class.
Specifically, first class travellers  pay shs.3000/- at the moment whilst an economy class seat costs shs.1000
Needless to say, first-class comes with more perks than the economy/second-class hence the price difference.
Be sure to carry funds to buy food and refreshments while waiting for the SGR train and when on board.
Can I get a refund?
In case you get issues before travel date, SGR offers a 70% refund provided the issued tickets have not been damaged.
That means you will part with shs.300 (Economy class) and shs.900 (first class) to cancel your ticket.
However, you have to claim the money 48 hours before (individuals) and 72 hours (Groups) before your scheduled train departs.
Then, you are deduced 10% to reschedule a trip and you'll again need to inform the SGR guys as soon as you learn that it won't be possible to travel as scheduled.
SGR Timetable: Nairobi to Mombasa
Ordinarily, the first SGR train from Nairobi (Madaraka Express) leaves the Nairobi terminus at about 8.00 (latest 8.20am).
This is the inter-county train which makes stopovers at SGR stations such as Athi-river, Kibwezi, Emali, Mtito-Andei, Miasenyi, Voi, and Mariakani.
The train arrives about few minutes past 2.00PM.
The second SGR train is express and leaves at approximately 2.35PM daily. You can expect to reach Mombasa SGR terminus a couple of minutes past 7.00PM.
Madaraka Express Schedule : Mombasa to Nairobi
From Mombasa, the first (inter-county) SGR train leaves at 8.00am and typically reaches Nairobi some minutes to 2.00pm.
The express train departs at about 3.00pm to reach the main Nairobi terminus at 8.00pm (or a few minutes past 8).
You should be at the station at least 1 & 1/2 hours before departure because of the security clearance and other logistics.
SGR booking contacts
You can contact the SGR customer care team if you run into headwinds when making your SGR Mpesa booking online.
Use these contacts…
Postal address: P.O Box 3012-Nairobi, 00100, Kenya
SGR Telephone number: 0709 388 888/0708 571 587/0728 603 581/0728 603 582/ 0708 572 574
SGR Facebook page: https://web.facebook.com/Kenya-Railways-248578828508174/ (You can send them a message via Facebook Messenger)
SGR website: www.krc.co.ke
SGR Email address: contact@krc.co.ke
SGR on Twitter: https://twitter.com/SGR_KE?lang=en  (@SGR_KE)
Whichever method you use, you will be informed about seat availability, SGR fare, and even be taken through the SGR booking via MPESA steps.
SGR MPESA booking: Helpful Tips 
You cannot transfer your SGR ticket to third parties.
You can use the SGR linking train to travel from the Nairobi central station to the main SGR Syokimau Terminus.
The trains allow cargo not exceeding 30 kilograms per traveller.
Two trains travel daily from Nairobi or Mombasa. Choose your most convenient train (morning/afternoon) when making your SGR booking to Mombasa or Nairobi.
Online booking for SGR Tickets can be made 30 days ahead of travel date.