Professional recruitment firms like Brightermonday Kenya can help you land your dream job more quickly than when you go it alone.
That's because many employers prefer to hire through the HR experts in these companies because their knowledge often helps them recruit the best talent for various jobs in Kenya.
In addition, since these companies have a huge database of resumes from diverse jobseekers, companies can replace staff in less time and at much lower cost.
And so you could be making a huge mistake if you're ignoring recruitment agencies when searching for a job.
Undoubtedly, Brightermonday Kenya is the biggest of the lot and you should consider registering with them if you want to be found by Kenya's top employers real fast.
This article will take through the steps of creating your profile on their portal and how to navigate the Brightermonday Kenya jobs section.
Follow me..
Brightermonday Kenya: How to sign-up and create your profile
Go to the Brightermonday Kenya website (Ensure you have your CV ready in soft copy before you start)
Once there, click on Sign up
Click Jobseeker signup on the next screen.
You will now be prompted to enter your personal information. Go ahead and type your official email address followed by an appropriate password.
Next, you'll enter your names, date of birth, gender, and current location in the provided spaces.
That's not all….up next you're supposed to key in your mobile number preceded by the country code (+254) and lastly, your nationality (Kenyan). That should complete the personal information section and pave way for your work and previous experience segment.
Here, you'll start by providing selecting your highest qualification (pHD, Masters, high school etc) followed by current job function (e.g. Accounting, Audit, & Finance).
From there you specify your years of experience (if any) and availability if a position that suits you arises.
Next, click on Choose file to upload your CV (It shouldn't exceed 5MB) then confirm if you would like a CV touch up (Yes/No)
Finally, down there select click on Create Your Account.
If prompted, verify your details as instructed then proceed. The system will upload your profile information and automatically log you in to the jobs portal.
Okay? As you can see, the brighter Monday sign up is a very straightforward process.
Now we will proceed to the all-important question: how to apply for positions on Brighter Monday.
How to apply jobs on brighter Monday
You will click Apply Here.
It's advisable to update your details including expected salary and add a cover letter before progressing. Note that it's important to craft an eye-catching cover letter to stand a good chance.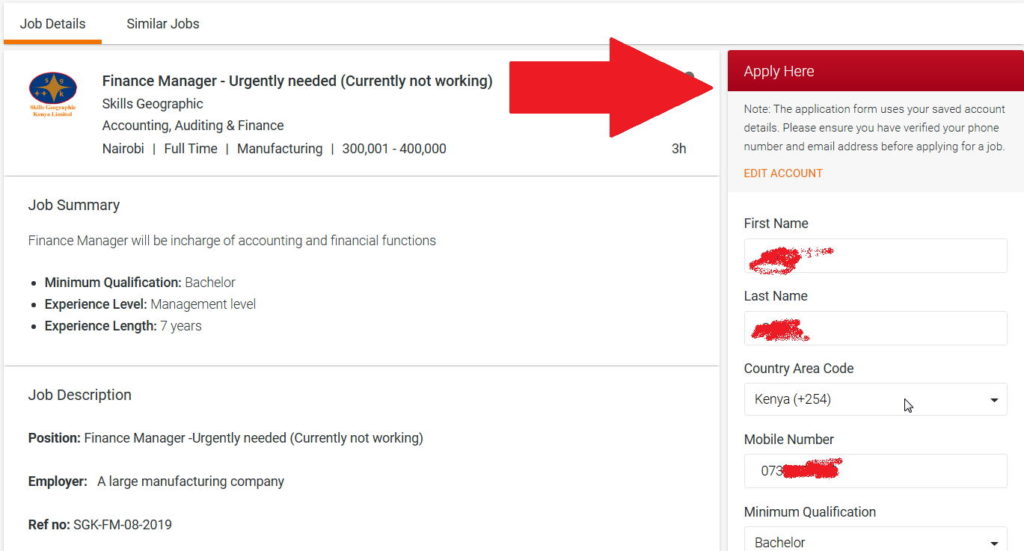 That's it! You can now search current job opportunities in Kenya and make applications on any job displayed on the home screen.
In fact, you'll also be receiving email notification about brighter Monday jobs in Nairobi and elsewhere (plus brighter Monday internships) as soon as they are published.
You will then be going to the website to apply for those that appeal to you.
Don't forget your username/email and password since you'll need them when logging in.
How to search for the latest jobs on Brighter Monday Kenya.
To search for your desired job, set the correct filters in the highlighted area (see below).

If you identify a job that interests you from the result, click on it then tap on the Apply here button to send an application.
Don't forget to check your email for notifications about your application's progress and the latest job alerts.
Type of jobs available from Brightermonday Kenya
Brighter Monday is a one stop shop for recruiters in Kenya and advertises jobs from different types of companies, big and small.
Here are some of the most popular job categories on the portal..
NGO jobs
Accounting, Auditing, and Finance
Hospitality jobs
Security jobs
Customer service/support
Jobs with no experience Kenya
Business development
IT and Software
Medical and pharmaceuticals
Administrative and office
Brightermonday Kenya contacts
Brightermonday address: PRH3+J4 Nairobi, 14 Riverside-Westlands, Grosvenor building (5th floor), Kenya
Brightermonday Telephone contact: 0703 026000
Main website: brightermonday.co.ke
Brighter Monday Facebook: https://www.facebook.com/BrighterMondayKenya/
Brighter Monday twitter: https://twitter.com/BrighterMonKE
MORE ARTICLES RECOMMENDED FOR YOU BY OUR EDITORS: