After our recent Business to Start With 20k in Kenya article where we mentioned importing goods from China as potentially lucrative, an interested reader asked us to write on how to import goods from china to Kenya.
And since our objective is to help you succeed from the myriad big business ideas in Kenya, we thought why not?
This article will hence teach you precisely how to import goods from china to Kenya.
Let's go..
How to Import Goods from China to Kenya
Step 1: Settle on a product (s) to import
If you're making a personal purchase- perhaps you have identified a nice phone on Alibaba, skip this step.
But if you're starting a business, you want to bring to the market items that will be the talk of Kenya for years to come.
There's tons of money in thrilling, unique goods.
And from my research, the following categories of goods sell like hotcakes in Kenya:
Electronics such as TVs,
Smartphones for all budgets.
Tablets especially kids tablets
Beauty accessories including perfumes and jewelry.
Fashion items such as sneakers and smart loafers.
But don't take my word for it…Take time and thoroughly research what you want to buy from china to Kenya.
And make no mistake…It doesn't have to be something magical.
In fact, sometimes a very nondescript product could massively lift you.
For instance, a friend became an overnight millionaire selling a certain memory card brand- poor me, I rejected his request to partner with him (sob! sob!)
Also, my own blood sister has been minting serious cash importing shoes to Kenya.
The rule is: if it's selling for others, it will likely be great for you.
Step 2: Identify a supplier
Hats off to Tim Berners Lee and everyone else who brought us the internet..
You see, because of these guys, you don't have to leave Kenya to go learn how to buy goods from china directly.
Instead, a simple Google search will introduce you to hundreds of potential suppliers from the multi-million dollar wholesale markets in China.
Of course, you can ask around or attend fairs or exhibitions that bring together various suppliers to importers in Kenya.
But why would you waste time doing that while Google is right there in your phone?
So, how do you approach this?
Simply open the Alibaba.com website or its sister Aliexpress.com The former is ideal when buying wholesale and the later for retail purchases, for example, when importing a phone to Kenya (one).
Next, search for your desired products and check the recommended suppliers.
Word of caution:
Cross check the reputation of your identified supplier to avoid falling into the hands of cons or getting a terrible deal.
Don't call them- simply review the comments left by other buyers.
I know it can be intimidating for first time buyers but people often get it right by forming an opinion from the reviews.
Perhaps you can go through this guide explaining how to buy from Alibaba  or Aliexpress while in Kenya to be sure.
I propose that you contact the supplier from the website if you want certain clarifications.
Ask him/her whether they would be comfortable forwarding the goods to the shipping company (Forwarder) you have selected when placing the order online…
Which brings me to the question of best shipping companies from China to Kenya..
Best shipping companies from China to Kenya
Now, I advise that you get in touch with any of these shipping companies in Kenya and enquire about their terms before completing the order.
Some of them including African Salihiya Nairobi offer cheap shipping from China to Kenya- its mostly between $7-$12 per kilogram.
You can as well use air freight. It's pretty quick- the maximum it can take is 3-6 days- but damn expensive.
Alternative Ways of Identifying a Supplier
Where you have friends or relatives in China, you can use them if, for some reason, you feel extremely uncomfortable using Alibaba or Aliexpress to import goods to Kenya.
I am also privy to Kenyans living in China and working as 'agents'.
I usually use Richard (Whatsapp/SMS/Call +254 722 885 321) for sourcing and delivery and it has been smooth sailing all through.
All you have to do is Richard with details about the items you wish to import and leave the rest to him.
China-based agents search for the best prices and handle all the logistics including shipping from any port.
He can also help you get better terms as far as the shipping cost from china to Kenya is concerned.
Better still, request your uncle/aunt to carry your package when travelling to Kenya for holidays.
Shipping Agents to Avoid
Some forwarding companies/agents charge an arm and leg and they'll leave you in red.
For this reason, you should avoid them like plague unless you absolutely lack options.
I am referring to firms such as:
Worse still, your package might be subjected to further customs, NEMA charges, and such costs as quoted in the Kenya import regulations.
By the way we are not here to learn how to import goods from China to Kenya the expensive way..
Posta (Via China Post registered Mail is better) since they'll bring the goods to your nearest post office.
Having said that, you can't use air freight or Posta if you're importing cargo above 1,000kgs and your sole option is marine shipping via the companies I mentioned above.
This time you'll be charged per CBM (cubic meter).
Specifically, the fee averages $600 per CBM and the company will deliver to your location anywhere in Kenya (Nairobi, Mombasa, Eldoret, and more…) even door-to-door.
Best of all, you pay for shipping on delivery.
Step 3: Pay for the goods
Once you're satisfied, you'll pay for your cargo.
If buying on Alibaba/Aliexpress, pay them via PayPal (create a free account and load it with MPESA).
Use this guide to learn how to link and add cash to your PayPal account from MPESA.
But you don't have to restrict yourself to PayPal as you will learn next …
Other ways to pay your Chinese suppliers
SinoPay-download an app called SinoPay. With the app, you will transfer money from Mpesa to Wechat China instantly. Be sure to inform the vendor that you wish to pay via Wechat for assistance.
Western Union– Most banks offer Western Union services.
Bank transfer– You'll wire the money straight to the vendor's bank account. Ask for his banking details.
Credit card – But be wary of fraudsters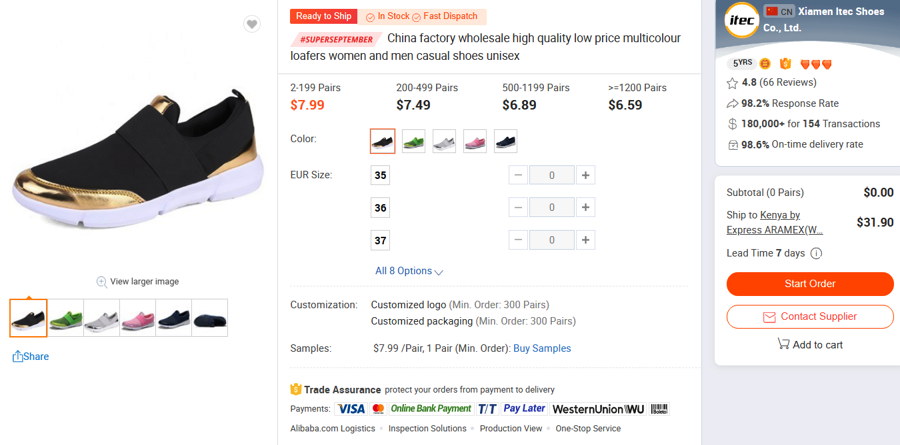 For the most part, the shipping firm will tackle the various clearing and forwarding procedures in Kenya (they will also guide you in case of trouble).
How much should you expect to pay including clearance and customs when importing from China?
On average, take the price quoted by the supplier and multiply it by 1.6 to arrive at the total investment.
Next, divide the answer with the quantity to get the cost per unit.
You can then check the present prices of similar items in the market and make a decision on whether importing your chosen goods will make sense economically.
How to communicate with Chinese Suppliers
Talking to your supplier will help you build rapport and plant the seed for a beneficial business relationship.
Your options are:
Alibaba chat– Check for this tool on the website.
WeChat– most Chinese suppliers use the Whatsapp-like wechat as their contact method. Download wechat and ask him/her for the mobile number if it's missing from the website.
Just request for the supplier's alternate contact information when you chat with him/her.
But for financial security reasons, it's best that you order from the website as Alibaba and Aliexpress.
That's because the websites offer escrow services meaning the vendor can only be paid by the website after you receive the goods.
How to Import Goods from China to Kenya : Do's and Don'ts
Insist on seeing samples first, especially if you're planning to do bulk. Any genuine supplier won't think twice about sending you samples unless he is marketing a scam.
Avoid using your credit /debit card for a start because of your card details security. Stick to PayPal or bank transfers until you're fully convinced of your supplier's integrity.
Run away from fake products- they may not even pass customs!
Start with smaller batches and upgrade the order gradually as you learn the market. That reduces the risk of importing dead stock.
In conclusion
That's how to import goods from China to Kenya
Now it's your time to start making crazy cash by aggressively pushing the products online and offline.
With proper pricing and tenacious marketing, you'll soon by soaring with the bigwigs in the importation business.
Lastly, what tips would you like us to add on this how to import goods from China to Kenya guide?
And what's has been your experience importing stuff from China?
Over to you..
ALSO READ: