When you sit for KASNEB Exams, you can register four possible results: Pass, Fail, Credit, or Refer. I want us to speak about the latter -KASNEB refers.
Now, you score a KASNEB refer if you don't meet the set KASNEB pass mark -which is 50%- in a subject/unit.
That means you will get an overall grade of credit if you, for example, pass in two papers and fail in the third paper (you're, of course, required to sit for 3 papers in any level of the various KASNEB professional exams).
The long and short of this is that you have to resit (and pass) the third paper (marked fail in the result slip) within the next 5 consecutive KASNEB exam sittings.
What many KASNEB students don't remember is the fact that you will be forced to attempt all the three papers afresh if you don't attempt and pass the paper you were referred in within the stipulated duration.
KASNEB Refers: an example
To help you understand the issue of KASNEB refers better, let's take an example of a hypothetical KASNEB CPA student NAC/10009X.
If NAC/10009X sat for and got a refer in one paper in his CPA section 4 exams in November 2019 results, he will get 5 consecutive chances to re-attempt and pass the refer.
In fact, the result slip clearly indicates this and will even communicate the final attempt date.
If for whatever reason NAC/10009X either fails to book a resit or books but unfortunately misses the pass mark within the following KASNEB 5 exam sittings, he will receive a notification asking him to sit for all the three papers (including the two he had previously passed –and had been carrying a credit) next time he tries to book for the refer exam after the final attempt date has elapsed!
It's therefore important that you keep track of the available remaining attempts after each KASNEB sitting (if you haven't passed).
Just check your results slip (as shown below).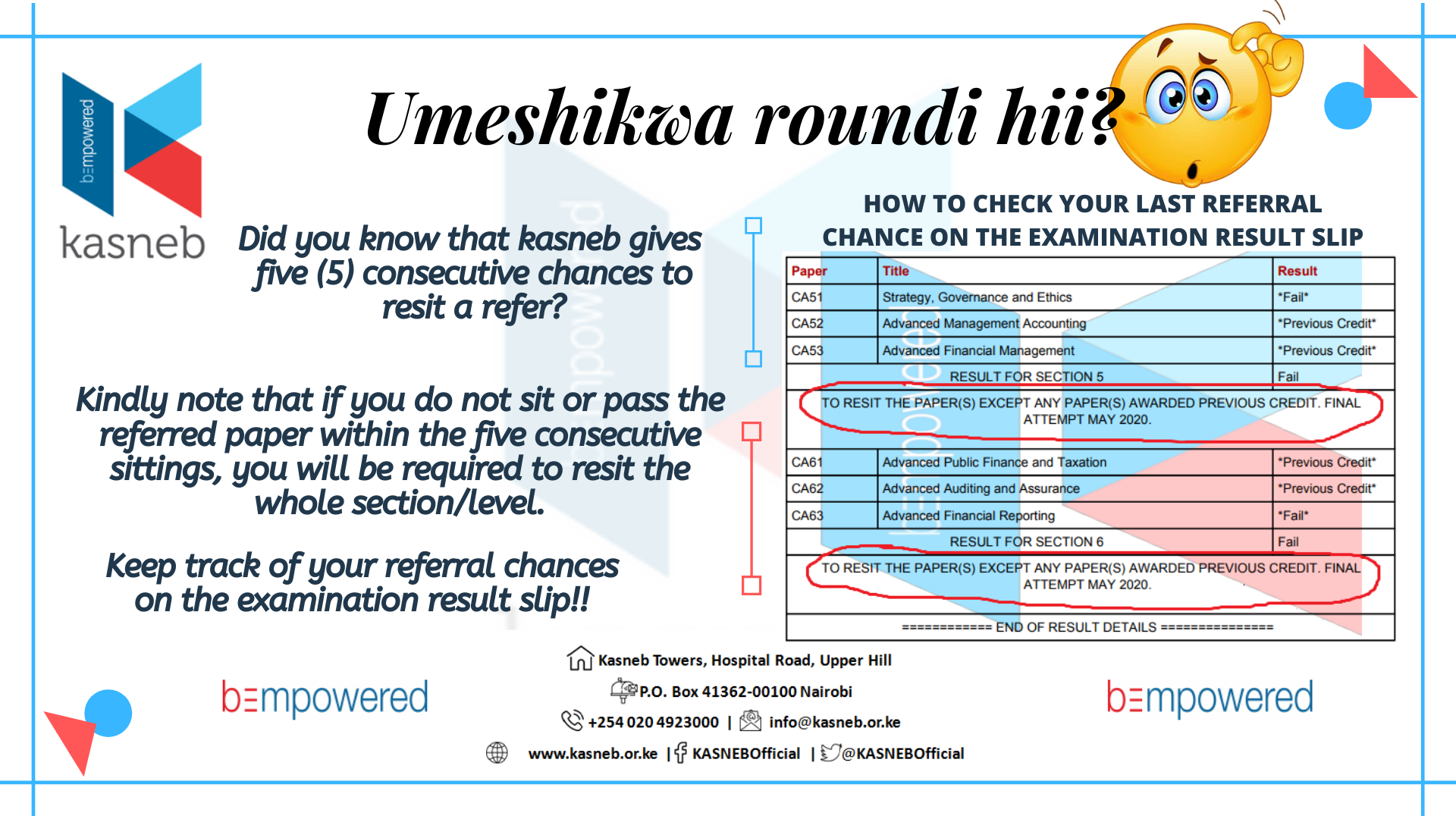 Image: KASNEBofficial
Otherwise, you will be further frustrated when you learn that your refer opportunity has lapsed.
It has happened to many unaware students and you don't want to be the next.
Please call KASNEB on 020 4923000 to confirm the status of your KASNEB refers if unsure.
ALSO READ:
Latest KASNEB News 2020, Updates, and Exam timetable