With 85% of Kenyans online, Kenya has one of the highest internet penetrations in the World. Yet, the cost of internet bundles remains high leading to numerous complaints and a continuous search for cheap internet in Kenya.
And now that most of these users access the internet from their mobile phone, It's not uncommon to find people hopping from one mobile company to another.
Indeed, mobile phone companies have perfected the art of creating peculiar deals as they compete for subscribers.
Take for example Telkom Kenya's 5GB Bundles offer, christened Night Owl, and which costs Kshs.39. True, you get awesome speeds but the package is only available from 12AM to 6AM meaning you have to literary become a night owl to benefit.
Other players include kenya wifi providers such as Zuku, hai, poa internet, and others.
But the big battle (and your best bet to get cheap internet in Kenya) is with Telkos and the latest kid on the block, Jamii Telcom's Faiba4g.
So, who is cheaper and how are the bundles like?
Here is a brief look at each of the providers and our recommendations on how to get super cheap internet in Kenya.
Telkom Kenya
Since rebranding from Orange, Telkom has undergone some major metamorphosis and has rousing internet offers.
What most Kenyans don't know is the Telkom has always had very good internet packages since time immemorial.
Why Telkom Kenya is Awesome
Amazing speeds: Tell you what? This company has lightning fast speeds wherever it has its signals. Personally, I rate their 4G the fastest (perhaps equal with Safaricom).
Some Very cheap Bundles: In addition to the Night Owl bundle which gives you 5GB for just 39/-, Telkom has a daily unlimited whatsapp offer at only 5/-. Plus numerous other offers.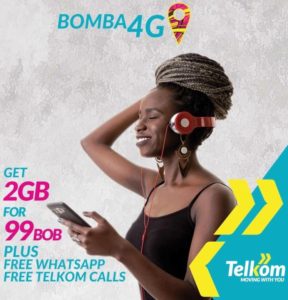 Why Telkom Kenya Can Be a Pain
The company doesn't cover the whole country so you need to confirm whether there is Telkom's internet coverage in your area before buying a Telkom line.
Telkom Kenya's Internet Bundles
A: Freedom Bundles
You get free Telkom to Telkom calls (maximum 60 minutes) & Free Whatsapp(Not more than 50MB)
Daily bundles
Weekly Bundles
Monthly bundles
Price
Data
Price
Data
Price
Data
Sh.9
25MB
Sh.19
40MB
Sh.249
1GB
Sh.19
80MB
Sh.49
150MB
Sh.499
3GB
Sh.49
500MB
Sh.99
2GB
Sh.999
6GB
Sh.99
2GB
Sh.249
2GB
Sh.1499
10GB
Sh.990
12GB (Extra large- XL Offer) (Excellent with Telkom's MiFi)
Sh.1999
15GB
Sh.2999
30GB
 B: #Staywoke (Night Owl)Bundle
| | | |
| --- | --- | --- |
| Price | Data | Validity |
| Shs.39 | 5GB | 12AM-6AM |
Telkom Kenya 4G
Telkom has also rolled out 4G internet services in a number of towns. To enjoy Telkoms 4G, you need to meet the following requirements:
Have A Telkom Kenya 4G Simcard
Have A 4G ready smartphone
Be in a covered location.
Telkom Kenya 4G: Covered Towns
Western
Eastern
Rift Valley
Coast
Central
Nyanza
Nairobi
Busia
Meru
Naivasha
Diani
Nyeri
Kisumu
Nairobi
Kakamega
Embu
Eldoret
Kilifi
Karatina
Kisii
Ngong
Bungoma
Kitui
        Kericho
Malindi
Kiambu
Maseno
Ongata Rongai
Machakos
Kitale
Mombasa
Limuru
Kitengela
Voi

 

Muranga
Nakuru
Thika
Nanyuki
Narok
Airtel Kenya
Airtel also offers superb internet bundles. They have also launched their own 4G service and delivers exhilarating speeds in covered areas.
Why Airtel Kenya is Awesome
Great speeds: Airtel network is also very reliable. Their 3G & 4G options are up there with the best.
More data for the same price: In some instances, you get more MBs for the same price as what the other offers. To illustrate,  the monthly bundle option going at 1500/-. will gift you 10GB in Telkom, while in Airtel, you get 15GB.
Why Airtel Kenya Can Be a Pain
Sometimes the company changes its data offers abruptly so you may find that the package you usually use has been changed when renewing your subscription.
Daily bundles
Weekly Bundles
Monthly bundles
Price
Data
Price
Data
Price
Data
Sh.5
8MB
Sh.50
150MB
Sh.300
1GB
Sh.10
25MB
Sh.100
350MB
Sh.500
3GB
Sh.20
70MB
Sh.250
2GB
Sh.1000
10GB
Sh.50
200MB
Sh.1500
15GB
Sh.99
2GB
Sh.2000
20GB
Sh.3000
36GB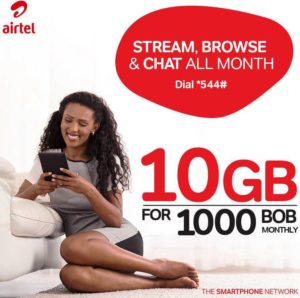 Airtel Kenya Unlimited Internet
Two of my favorite internet packages are from Airtel:
The Airtel Modem Offer
If you dial *544# and then look at the available choices, you will find the Unlimited Modem.
Here, you can choose a fantastic subscription like the Modem Daily which gives you unlimited internet for 24 hours for as little as 50shs.
But that is even not my best….On digging deeper, you will see the Modem Weekly which delivers a whole week's unlimited internet for just 250shs.
The best part?
You don't need a modem to qualify for the discounted offer. Just dial *544# from your phone and enjoy!
The Airtel Weekly Offer (Mobile)
For just Ksh. 250, you can buy a whole week's Unliminet all-inclusive pack that comes with 350MB , 50 minutes talk-time (Airtel to Airtel) and a further 50 Minutes talk-time to other networks.
To cap it all, you get 500 SMSs which you can use on any Network!
Faiba4G Kenya
Owned by Jamii Telkom- the company behind the famous Njoroge adverts on our TVs, Faiba4G internet has been a revelation since it's entered the market for cheap internet in Kenya.
Stunning speeds, consistency, and rock-bottom prices….Faiba4G has it all!
Let me walk you through Faiba4G extraordinary packages..
Daily bundles
Weekly Bundles
Monthly bundles
Price
Data
Price
Data
Price
Data
Sh.50
1GB
Sh.300
8GB
Sh.1000
25GB
Sh.500
15GB
Sh.2000
40GB
Sh.3000
70GB
Sh.4000
120GB
Sh.6000
210GB
What you need to Access Faiba4G
faiba internet Kenya requires that you either buy a Faiba mifi (a portable Wi-Fi router), have a compatible 4G phone, or lately, a Faiba4G Model.
The MiFi costs about shs.5400 while the Faiba4G Modem comes at a slightly cheaper price of shs.4850.
You can also use select 4G compatible phones. Note that not all smartphones are Faiba4G compatible and you will need to confirm if your phone works with this network before going for Faiba4G.
So far, the following phones works amazingly on this network:
| | |
| --- | --- |
| Nokia | Nokia 2, 5, 6, and 8 (these Devices are Fully Compatible with both Faiba4G Voice and Data) |
| TECNO | Camon CX, Phantom 8, K8, and Camon CX Air |
| Infinix | Zero 4 & Zero 5 |
| OPPO | F5, F5 Youth, F1s, A57, R5,F3 Plus, F1 & R7, |
| iPhone | iPhone 6s & above (including iPhone SE) |
| Samsung | Galaxy S6/S7/S6 Edge/ S7 Edge/S8 & S8+/ Note 4/Note 5/Note 8/ A5 (2016 & 2017)/ J7 Pro/J7 (2017)/ J2 Prime/ J5 Prime/ Grand Prime/ J1 Ace/ C7 (2017)/Note FE/ J2/ A9 Pro (2016)/ A7 (2016 & 2017) |
| Huawei | P8/ P9/  Mate 7/  Mate S/  Mate 8/ Mate 9/  Mate 9 Pro/  P10/  P10 Plus/  Mate 10 / Mate 10 Pro/  GR5 (2017) /  Honor 6 |
| HTC | 10/ U Ultra/ Desire 10 Pro/  U Play/ U11/ Desire 825/ Desire 530/ Desire 610/ Desire 628/ One E9+/ Desire 626/ Desire 820/ Desire 530/ One M9/ One M8/ One X9/ One A9 |
| Moto | G4/ G4 Plus/ G5/ G5 Plus/Z/ Z Play/ Z2 Play |
| LG | G3 (Dual-LTE)/ G4/ G5/ G6/ Q6/ V10/ V20/V30 |
| Sony | Xperia Z3/XZ Premium/ XA/ XZ/ XA1 Ultra/ Z5/ XA Ultra/ X/M4 Aqua/ Z3 Compact/ Z3+/ Z5 Premium/ C5 Ultra/ E5/ M5/ X Compact/ X Performance/ C3/ C4/ Z2a (D6563) |
| Lenovo | P2/ K6 Note |
| Xiaomi | Mi Mix2/ Xiaomi/ Mi Note 2 |
| ZTE | Axon 7 |
| OnePlus | 5/ 5T |
| Blackberry | Priv/ KeyOne/ DTEK 50/ DTEK 60 |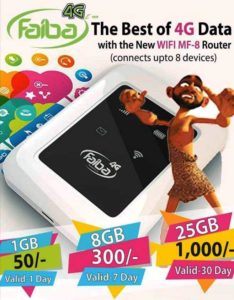 Where Can I Buy Faiba4G MiFi?
You can visit Tuskys (Tuscom), Naivas, and Phone Express.
Faiba4G Coverage
Nairobi & Surroundings
Machakos & Environs
Eldoret
Nakuru
Kisumu
Kiserian
Testimony
Engashura
Manyatta 2
Athi River
Centre
West indies
Jandu
Mountain View
Ngong Town
Town
Railways
Koinange
Migosi
Ruiru
Miwani
Kapsoya
Barracks
Stadium
Syokimau
Thika & Vicinity
East
Milimani
Mamboleo
Kitengela
Town
Kimumu
Pangani
Nyalenda
Juja
Makongeni
Langas
Naka
Car wash
Kiambu
Industrial area
Lanet
Industrial area
Kikuyu
landless
Mombasa
Railways
Milimani
Limuru
NSSF
Unga estate
Rongai
Mtwapa
Eden
Bamburi cement
Bondeni
Makaburini
Kiamunyi

 

Voyager
Kiamunyeki
Mbaraki
Shimanzi Road
Kiembeni
Mikindani
Makadara
Bombolulu
Mombasa Polytechnic
Safaricom
Unlike Safaricom's other products such as Mpesa, their Internet has of late been facing stiff competition from the other players.
A lot of users complain of its expensive pricing and tendency to 'get swallowed' up fast.
Here is a summary of their bundles and, admittedly, the competitors have much better offers:
Daily bundles
Weekly Bundles
Monthly bundles
Price
Data
Price
Data
Price
Data
Sh.5
7MB/7SMS
Sh.50
100MB
Sh.250
350MB
Sh.10
15MB/15SMS
Sh.99
350MB/ Whatsapp
Sh.500
2GB
Sh.20
50MB/50SMS/ Whatsapp
Sh.250
1GB/ Whatsapp
Sh.1000
5GB
Sh.50
150MB/150SMS/ Whatsapp
Sh.500
3GB/Whatsapp
Sh.2000
15GB
Sh.99
500MB/500SMS/ Whatsapp
Sh.3000
25GB
To make matters worse, Safaricom has scrapped the popular daily 1GB Data bundle offer so if you're a heavy internet user on mobile, you may have to look elsewhere.
*Update: After a lot of hullaballoo and  noise from the KOT(Kenyans on Twitter) community,Safaricom has bowed to pressure and reintroduced the daily 1GB @ shs.99 offer so you can still enjoy this popular package.
Safaricom Mifi
Not to be left behind, Safaricom has a portable Mifi router and gives you 30GB for shs.3500/-.
Well, if you are a fan of MiFi internet, that could be an option.
Unlimited Internet Kenya/ home internet kenya
The advantage of unlimited internet is that you can make unlimited downloads. Several Telcos offer unlimited internet but at varying prices. If you want be streaming Netflix at home, you can install one of the incredible home internet month packages.
By the way for home, Safaricom'a Home Faiba is the real deal- at least according to me. It's fast and absolutely reliable.  Zuku has also been there for some time and has a fair share of followers.
Here is a summary of options:
Bundle
Price
Data
Provider
Requirements
telkom kenya unlimited internet

 

Shs.3999
Unlimited – 30 days
Telkom
Telkom 4G Router –comes with

a 4G SIM card & FREE 10GB ( valid for 30 days)

 

Faiba 4G Home
Shs.5000
Unlimited – 30 days
Faiba4G
Installation by the company* you can go for higher plans if you so wish.
Safaricom Home Faiba
Shs.2500
Unlimited – 30 days
Safaricom
Installation by the company* you can go for higher plans if you so wish.
Triple Play
Shs.5999
Unlimited – 30 days
Zuku
Installation *The package is bundled together with 58 TV channels. Again, more expensive options are available
Cheap Internet in Kenya: Final Thoughts
If you are searching for cheap internet in Kenya, you may find Telkom's Night Owl package quite interesting. Other factors like coverage considered, I believe Telkom is one of the top 2 for personal internet.
However, their monthly Unliminet (for home and cybers )is, at 3999/- a bit expensive than Safaricom's which is priced at 2500/-.
Still, as far as high speed internet Kenya is concerned, Airtel has cheap daily and weekly options. For me, Airtel weekly unliminet package is wonderful, especially if you work online provided you don't use lots of data.
However, If you use more data like in Video and are looking for a flexible option you can use on the go,  Faiba4G could perhaps be the cheapest.
For home unliminet, Safaricom and Zuku are the top 2- as of now.
When choosing the company to subscribe to, remember to check that that company's signal is available in your area. And whether your devices are compatible, especially for Faiba4G which works with very specific devices.
You can also look at the pricing and customer service.
So, what's your most preferred bundles' package?
Let me know from the comments.