Here comes our first KASNEB News  2020 update (updated on 4/4/2020)..Note that we update this page continuously.
KASNEB May 2020 Exams postponed
We all know that Kenya is fighting COVID-19 and this has caused a lot of disruptions in our lives.
The education sector hasn't been spared and KASNEB has announced that the May 2020 exams have been pushed forward to July 2020.
Specifically, all KASNEB exams are tentatively scheduled to commence on 28th July to end on 30th July 2020.
Students have been advised to take advantage of online educational resources for their exam preparation together with  the past KASNEB Examinations papers which have been availed free of charge online.
Here are the links to use to access the resources.
Create on account on https://kasneb.remotexs.co (you will get an email notification with the required details).
Visit http://elibrary.kasneb.or.ke (to access the various e-resources including KASNEB approved learning materials).
Send an email to library@kasneb.or.ke if stuck.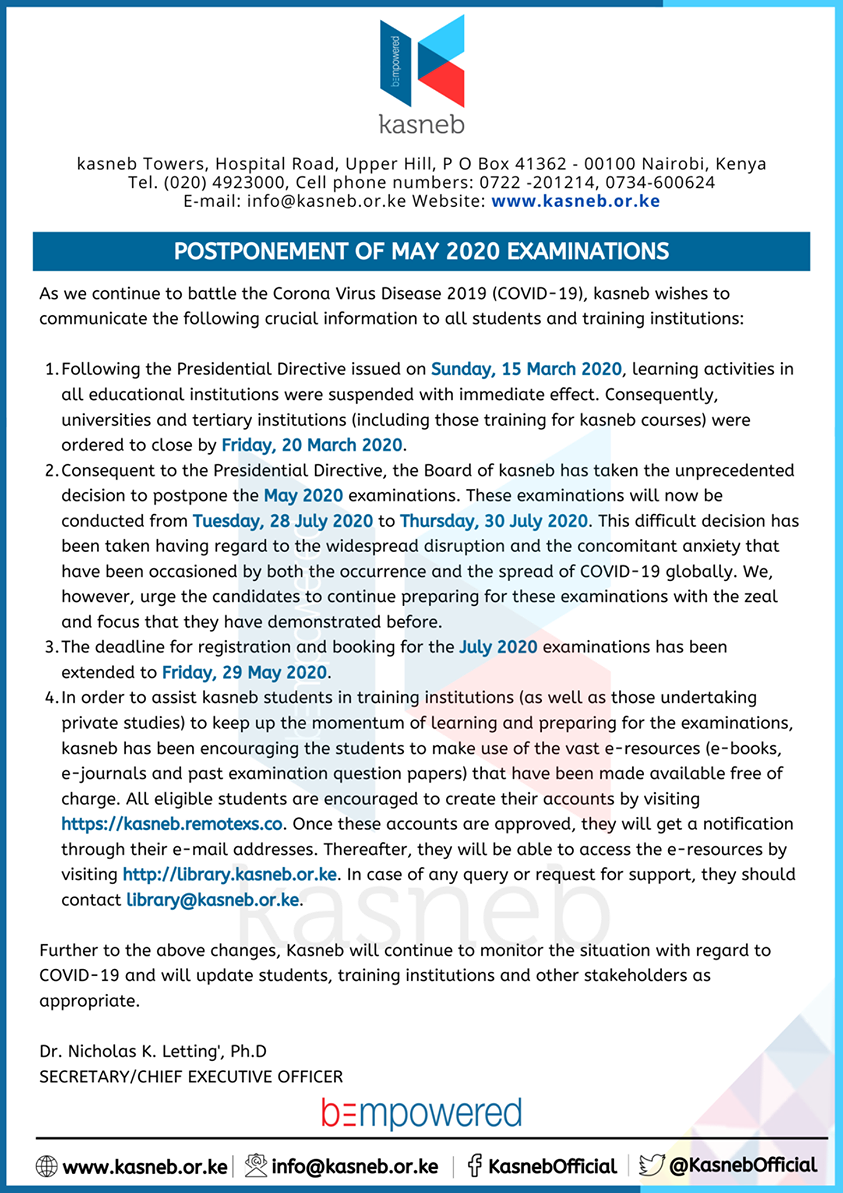 Courtesy of KASNEB
Below are our previous KASNEB news…..
KASNEB May 2020 Exam sitting dates announced
The examiner has announced that all KASNEB May 2020 exams will be held from Tuesday, 26th May 2020 – Thursday, May 28th May 2020.
Its important to note that KASNEB modified its exam calendar last year to have the exams take just 3 days unlike in the past when exams would last even 10 days.
The last date to register and book these exams is March 15, 2020 and you can access the registration online (from KASNEBs website) or from any branch of Kenyan National Library near you.
We shall be publishing the official KASNEB May 2020 Exam timetable for each course and level as soon as we receive it in a later update.
November 2019 Results Released
KASNEB has announced the release of the eagerly awaited November 2019 exam results.. The ATD and Diploma results were released on 24/12/2019 while the professional results came out on the eve of the new year (31/12/2019).
Never in its history has KASNEB released its exam results this soon – it took less than 1 month for the ATD & Diploma results to be ready.
This was the second sitting since new KASNEB boss Dr. Nicholas K. Letting took over from the former long-serving CEO Pius M. Nduati.
Scroll below to read the older KASNEB news update….
Proposed KASNEB  supplementary exams put on hold
KASNEB has been toying with the idea of launching supplementary exams targeting those who get a refer in any of their exams- students currently wait for at least 6 months to get an opportunity for a resit.
However, in a social media post  on November 23, 2019 , KASNEB announced the suspension of the plan to hold supplementary exams -proposed to be held in February 2020- until further notice.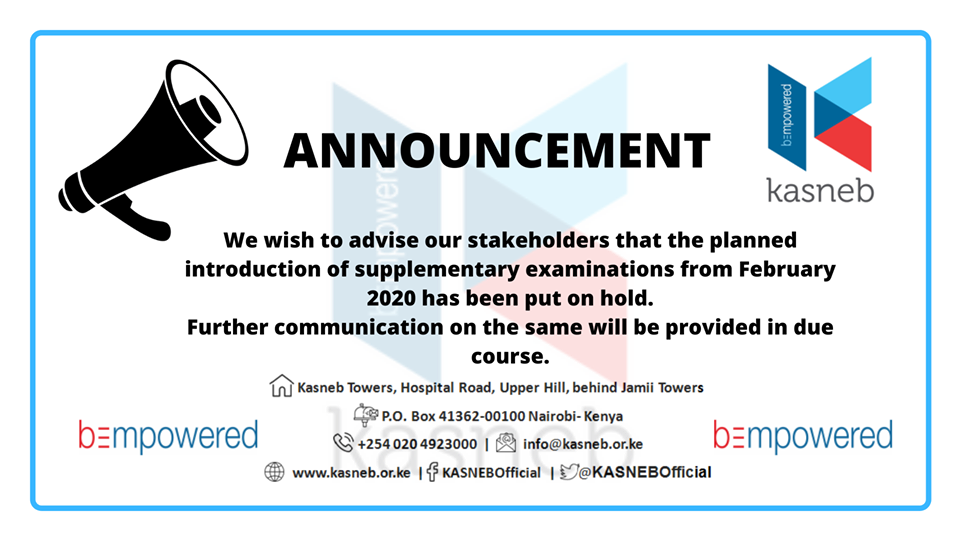 Image: KASNEBofficial
………………………………………………………………………………………………………………………………………
Here is a roundup of the latest KASNEB News 2019 (updated 21/11/2019)
KASNEB News 2019: November 2019 exams- General information
KASNEB has advised candidates that starting  November 2019, all exams will be completed within 3 days.
This is a drastic shift from the past when exams would go on for even up to 10 days.
Specifically, the dates for the November 2019 exam series are 26th November-28th November 2019.
November 2019 exams- additional guidelines
In a notice published in the MyGov pullout, KASNEB has further advised candidates as follows:
That you should ensure that you have obtained your November 2019 examination timetable in good time. The timetable can be easily be downloaded from the KASNEB students portal.
That you should immediately upload your latest passport-size photo on e-KASNEB to facilitate your identification. KASNEB strongly proposes that you do this urgently to avoid problems at the last minute.
That you'll only be allowed to sit for your booked exams at the KASNEB examination center you have been booked (check the timetable). You are therefore required to search for the exact location of the center (if you live far) ahead of the exam dates. You should also make the necessary travel/accommodation arrangements to prevent last-minute hitches.
KASNEB further emphasizes that they'll not permit last minute applications for exam center changes.
KASNEB News 2019: KAMS Entry grade reviewed downwards
In other news, KASNEB has lowered the minimal entry grade for the KAMS exams to D plain (mean grade) from the previous D plus aggregate grade.
This is in line with the specifications of the recently formed KNQA (Kenya National Qualifications Authority), the state agency charged with the responsibility of all higher education/training qualifications in Kenya.
The new grade comes into force immediately.
KASNEB News 2019: Release of KASNEB Examinations Results (updated June 14, 2019)
KASNEB has released the May 2019 Examinations results for the CPA, DICT, CAMS, ATD, DCM, CICT, and all other certifications.
Here is how to check for your KASNEB Exam results online or via SMS.
Hard copy result slips are however not ready.
Collection of KASNEB Certificates
If you have qualified for any certificate at either Professional or Diploma level (meaning you have completed a part as of November 2018 sitting), you should make arrangements to pick your certificate.
KASNEB has set the collection dates to be between 15th July 2019 -19th July 2019 starting 8.00 a.m. – 3.00 p.m.
You will need the following documents..
Your National Identity Card or
Valid Passport.
Here is how to access your certificate:
Visit KASNEB Towers in person
KASNEB main offices are located at Hospital Road, Nairobi (Upper Hill area). Take Bus no. 17C from KENCOM and ask to alight at KASNEB.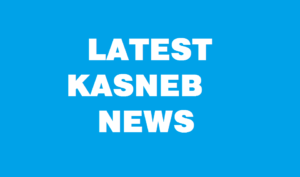 Request for the certificates to be posted to you
If you wish to have your certificates posted to your location, make a written request to KASNEB. You should attach copies of the aforementioned documents to your letter.
Don't forget to indicate a working telephone number and a reliable postal address (where you want the certificates posted).
You can post your letter to:
P.O. Box 41362-00100, GPO Nairobi.
You can alternatively submit your written request to any of the following Huduma centers (KASNEB's desk).
Mombasa
Kisumu
Nakuru
Kisii
Eldoret
Nyeri
Lastly, you can email your written request to certificates@kasneb.or.ke
Note that KASNEB won't take responsibility for none-delivery of posted certificates.
Also, note that KASNEB will charge Sh.100 per any uncollected certificates per month after the expiry of the set collection deadline.
These charges will start accruing effective 1 August 2019.
Ongoing major syllabus review
As it has been the tradition, KASNEB is currently undertaking a comprehensive revision of the syllabuses for all its examination syllabuses.
The goal is to help re-align KASNEB qualifications to the evolving demands of the job market. Besides, the review will ensure that KASNEB certificates are in line with global trends.
You are open to present your feedback/opinion regarding the review to KASNEB by latest 31st July 2019.
First date for the new syllabus exams
KASNEB has tentatively set November 2020 as the first sitting during which candidates will be tested under the new syllabus.
New KASNEB CEO
In other KASNEB News 2019, former CEO Mr. Pius M Nduatih has handed over the mantle of KASNEB leadership to the incoming CEO/secretary Dr. Nicholas Letting'.
Mr. Nduatih retired on 13 January 2019 after being at the helm of KASNEB for over 10 years.
Dr. Letting' is a distinguished scholar and was previously the Vice-Chancellor as well as the CEO of MUA (Management University of Africa).
Besides holding a PhD, MBA, & BCom degrees (from UoN- University of Nairobi),  Dr. Letting is a CPA(K) holder.
He is as well a KASNEB's Certified Secretaries (CS) and CIFA (Certified Investment and Financial Analysts) qualifications finalist.
Dr. Letting first major assignment is steering the new syllabuses review and subsequent implementation.
Let's now turn our attention to KASNEB News 2019 pertaining to the upcoming examination series…
KASNEB Exams -November 2019 Exam Entry Notice
If you're planning to sit November 2019 exams, you have up to 15th September 2019 to register and pay for exams.
KASNEB will not be extending registration beyond the stated closing date.
KASNEB November 2019 timetable
KASNEB November 2019 examinations are scheduled to be held on the following dates:
Examination month: Tuesday, 26th November 2019 – Thursday, 28th November 2019.
Specific KASNEB exam dates (November)
Tuesday, 26th November-2019 to Wednesday, 27th November-2019
CAMS – Levels I & II
ATD- Levels I, II & III
DICT- Levels I, II, & III
DCM- Levels I, II, & III
Tuesday, 26th November 2019 – Thursday, 28th November 2019
CPA- Parts I, II, & III
Certified Secretaries -I, II, & III
CIFA- Parts I, II, & III
CICT- Parts I, II, & III
CCP -Parts I, II, & III
CPSP-K (Certified Procurement & Supply Professionals of Kenya)- I to IV
Tuesday, 26th November-2019 to Wednesday, 27th November-2019
Foreign Accountancy Qualifications exam (FAQ)
Thursday, 28th November 2019
Foreign Secretaries Qualifications/ exam (FSQ)
Tuesday, November 26th 2019- Thursday, 28th November 2019
APS-K (Associate in Procurement & Supply of Kenya) Levels I & II
PS: We will be updating this bulletin as soon as we receive more KASNEB news 2019…
Sources:
https://kasneb.or.ke/wp-content/uploads/2017/03/Combined-advert.pdf