If you want to know how to get HELB Compliance Certificate in Kenya, you want to read this article to the end…
Of course, the certificate is most necessary when applying for new job opportunities in Kenya- employers in Kenya often use the document as proof of your credit integrity and not having it can make you miss out on a lucrative job.
Whatever you need it for, here is a comprehensive guide on how to obtain HELB compliance certificate in Kenya.
Let's get started:
How to Get HELB Compliance Certificate (step by step)
If you did not know it, a HELB compliance certificate is simply a formally certified document issued by HELB to indicate that you have been paying your HELB loan.
And to be clear, there are two categories of Kenyans eligible to obtain HELB Compliance Certificate.
These are:
HELB Loan beneficiaries that are up to date with their HELB loan repayment- You can get the HELB compliance certificate if you are up-to-date with your HELB loan repayment schedule. Those within the HELB's repayment grace period also qualify for the certificate. The certificate you get here is officially referred to as HELB Loanee Compliance Certificate.
Non-beneficiaries- If you self-financed your University or College education, you are awarded the HELB Non-Loanee compliance certificate.
How to Get HELB Compliance Certificate (How to apply)
You can acquire your HELB compliance certificate in two ways:
Visit HELB offices at Anniversary Towers, Nairobi. You can also approach your nearest Huduma Center though most Huduma offices tend to refer applicants to HELB headquarters.
Apply online via the HELB self-service portal or through the E-Citizen platform (you need to be registered on e-Citizen- but registration on e-Citizen is quick, if you are not registered)
How to Apply for HELB Compliance Certificate at Anniversary Towers
It's really simple:
While at the offices you'll be issued with a form – Enquiry Form (EF). You are supposed to complete it as required.
Some of the sections to be completed in the form are:
Nature of your inquiry. Please indicate that you are applying for a compliance certificate.
Personal details (like your ID and University/college registration number)
Employment details (employer's name, address, etc)
After submitting the filled form, the HELB team will take you through the next steps (application and eventual processing).
For the most part, you are likely to head back home with your certificate – unless there's an unexpected hiccup like HELB systems being down.
HELB Headquarters location and contacts
Location: Mezzanine One (M1) Floor, Anniversary Towers, Nairobi
Telephone: 0711 052000
Email: contactcentre@helb.co.ke
Website: www.helb.co.ke
How to Get HELB Compliance Certificate Online (Procedure)
The process of applying for a HELB compliance certificate via the online HELB portal is also straightforward.
All you need is an active online HELB account.
Here are the steps to follow to apply for your HELB compliance certificate online through your HELB account..
Go to HELB student's online portal studentportal.helb.co.ke
Enter your usual signing-in details (email address and your password)
If you cannot recall your password, click on "Forgot password" to have a password reset email sent to you (via your registered email address).
Once you succeed to log in, do as described below:
.
While on the HELB's online dashboard;
Hover your mouse pointer over 'Online Services' and click this tab
Look for the 'Compliance Certificate' option and click 'Download Compliance Certificate'
You're all done. You can now save print the certificate (if using your phone, just download it then go to a cybercafe to get it printed)
How to apply for HELB Compliance Certificate on eCitizen
The other way is applying on e-Citizen portal.
Here are the steps:
Visit https://accounts.ecitizen.go.ke/ and log in to your e-citizen account
Once logged in, go to the HELB services option (look around until you see it).
Click on it.
The following page opens.

Just click HELB clearance
The following option opens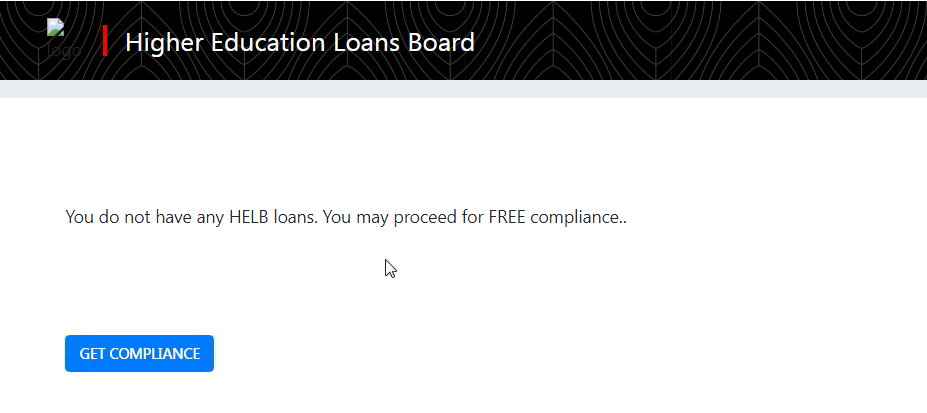 Click Get compliance.
Now Click Download or Print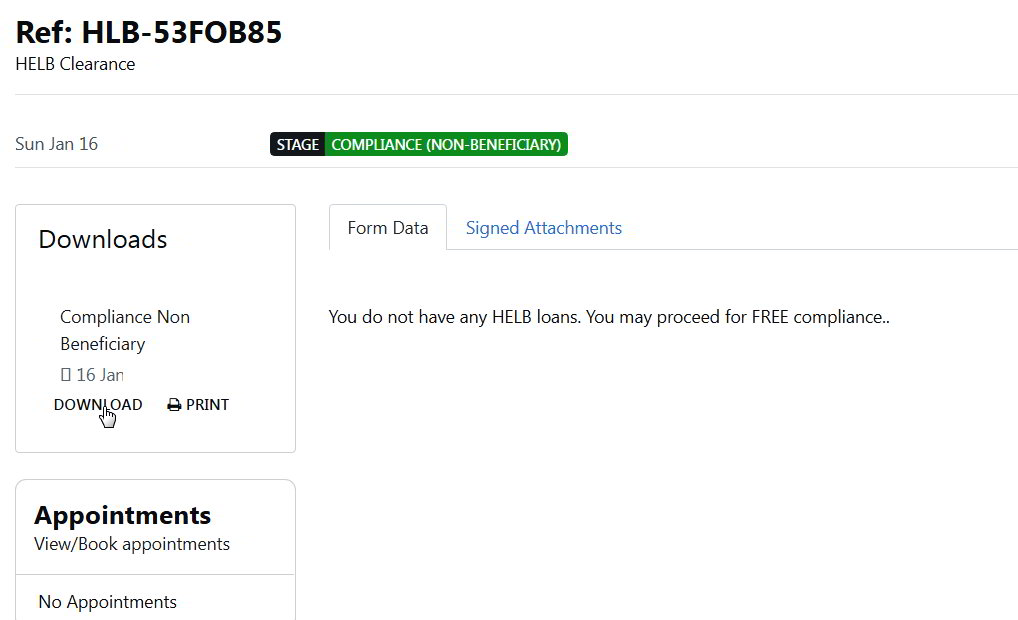 That's how to get free HELB Compliance Certificate.
How to Pay for HELB Compliance Certificate
Gone are the days when you used to pay for the HELB compliance certificate.
HELB (after a lot of complaints) waived the Ksh 1,000 fee required for non-beneficiaries to acquire the Certificate so it doesn't cost a penny nowadays.
Apply for HELB compliance certificate – FAQs (Frequently asked questions)
How long does it take to get HELB compliance certificate?
You'll get your HELB Compliance Certificate within the same day whether you applied in person by visiting the HELB headquarters at Anniversary Towers, Nairobi or you apply online
It's pretty fast to obtain the certificate via the 2 online portals (HELB self-service portal or e-Citizen). A few minutes will be enough for that.
How long is HELB Compliance Certificate valid?
HELB Compliance Certificate is valid for a maximum period of one year from the date of issue
Is HELB compliance certificate free?
Yes!
HELB waived the previous Kshs.1000 application fee it used to charge for the compliance certificate so the certificate is nowadays 100% free.
Does HELB compliance certificate expire?
Yes. After one year.
So you'll need to renew it after one year.
How to Get HELB Compliance Certificate (Recap)
If your HELB loan account is up to date or you're within HELB's loan repayment grace period or you're a non-beneficially of HELB loans, you are eligible to get the HELB Compliance Certificate for free.
HELB loan beneficiaries get the HELB Loanee Compliance Certificate while non-beneficiaries get the Non-loanee Compliance Certificate
To get your HELB compliance certificate, visit HELB's head offices at Anniversary Towers or apply online through HELB's self-service portal or your e-Citizen account.
Once on either platform, follow the steps indicated above to download and print your HELB Compliance Certificate.
Don't forget to apply for HELB clearance certificate once you finish repaying your HELB loan.
ALSO READ:
HELB loans for KASNEB students