iZwe loans Kenya is one of the leading private lenders in Kenya to be accredited by the government to advance loans to civil servants and TSC members in Kenya.
The private lender has a presence in most counties in Kenya and also lends to workers from selected parastatals as well as renowned private institutions.
iZwe Loans Kenya Nairobi
iZwe loans Kenya Nairobi is located along Standard Street, New Sarova Stanley Building (Ground Floor).
You can call them 0721 528 286 for Personal Loans or email them via customersupport@izwekenya.com.
You can also contact izwe loans Kenya Nairobi at their other offices along 46 Kabarsiran Avenue in Lavington, Off James Gichuru Road.
If you want to call the customer care team in the city, use their hotline 0709 530000 or the previously mentioned izwe email address customersupport@izwekenya.com.
Type of loans you can access from iZwe Loans Kenya Nairobi and in other branches
Overall, iZwe Kenya offers three types of loans..
There are:
1.     Car4Cash
This loan is available for any qualifying car owner. The security is your car's logbook and the maximum amount depends on the value of the car you're pledging as collateral.
The maximum you can be awarded is kshs. 3,000,000 and you get the loan offer as soon as you hand in the logbook.
2.     Personal Loans
The popular iZwe personal loans are awarded to salaried Kenyans and as I had hinted, those working with the government or parastatals besides a few reputable private companies.
The loan is customized to meet your personal financial needs and you can access as much as shs. 1.5 million repayable over 6 years.
And so you can use the loan to fund the purchase of your dream car, finish the construction of your stalled building, start a side hustle, or even pay school fees.
You will be expected to make the agreed fixed monthly repayments via Check off until you clear.
3.     iZwe Business loans
This loan is tailored for business owners who are facing a cash crunch which can't wait.
The loan is approved almost immediately (as long as you provide all the supporting documentation and met all the conditions), unlike banks where you're sometimes forced to wait for weeks.
These loans are flexible and the amount plus repayment terms depend on your business's ability to pay.
izwe Loans Terms And Conditions and izwe loans interest rate Kenya
iZwe loans Annual Percentage Rate(APR) ranges between 50-112% though the actual interest and loan costs comes down to your preferred repayment term and principal amount.
To put this into context, if you take a shs. 100, 000 loan over 5 years (60 months) at a 35.76% annual interest rate, you will have repaid shs. Kes 215,880 by the end of the 5 years from my calculations.
The actual figure may be different so it's best to confirm from your credit officer before you sign on the dotted line.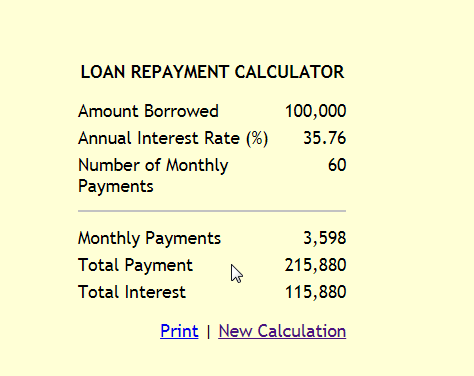 The other conditions are as follows:
You must be a permanent and pensionable civil servant.
You have to be a Kenyan national.
You are below 60 years.
How to apply for izwe Loans
You can apply online or Face to face from any of the branches.
Those in Nairobi are served from the above-stated two iZwe loans Kenya Nairobi offices while Kenyans outside Nairobi are to apply from their nearest branch.
Check the contacts and locations of iZwe's nationwide branches below to find out your most convenient branch.
Now, in addition to the above minimum requirements, you have to pass to provide 3 recent payslips, a bank statement, and 2 very recent coloured passport size photos.
Moreover, you must bring your original national ID card plus your employment card when applying.
Something else..
Izwe loans Kenya employs field staff and you can call the office on 0709 530 000 or send an SMS with the word Izwe to 20499 requesting for visitation by one of their field sales/loan officers at your office/home.
He/she will guide through the entire izwe loan application process.
Your cash is disbursed through the bank or EFT upon approval which sometimes takes less than 24 hours.
Summary of Izwe Loans Kenya Branches and Contacts
Here now are all the iZwe loans Kenya branches contact and location details..
izwe Loans Head Office
Physical location: 46 Kabarsiran Avenue, Lavington, Off James Gichuru Road.
Telephone: 0709 530000
izwe email address: customersupport@izwekenya.com.
Main website: https://www.izwekenya.com
Facebook: https://web.facebook.com/IzweLoansKenyaLtd/
iZwe loans Embu Branch
Physical location: Ganga house, Kenyatta highway, 2nd Floor, Embu
Telephone: 0738 999 977
Email: customersupport@izwekenya.com
iZwe loans Eldoret
Physical location: Barng'etuny Plaza,  Shop no 2, 3rd Floor, Eldoret-Kenya
Telephone: 0719 600 400
Email:customersupport@izwekenya.com
iZwe loans Kakamega
Physical location: Solomon House, Room 7, 1st Floor, Mumias Road-Kakamega
Telephone: +254 (0) 719 600 400
Email:customersupport@izwekenya.com
iZwe loans Migori
Physical location: Equity building, Isibania Road, 3rd Floor- Migori
Telephone: +254 (0) 719 600 400
iZwe loans Kisii
Physical location: Hema Plaza, Stadium Road, 1st Floor-Kisii, Kenya
Telephone: 0719 600 400
iZwe loans Kisumu Branch
Physical location: Reinsurance Plaza, Ground Floor,  Next to the Bata Shop along Oginga Odinga Road- Kisumu
Telephone: 0713 773 007 / 0709 530 161
Email: customersupport@izwekenya.com
iZwe loans Malindi
Physical location: Ground floor, Malindi Royal Complex,  Room No. 2,  Mombasa Road (opp. Imarika Sacco)- Malindi, Kenya
Telephone: +254 (0) 719 600 400
iZwe loans Mombasa
Physical location: Oriental Building, Ground Floor, Opp. Co-operative Bank of Kenya branch, Nkrumah Road –Mombasa
Telephone (0) 41 2224 061/ 0709 530 141
iZwe loans Kitale
Physical location: Shop No. 15, Ground Floor, Executive Building-Kitale, Kenya
Telephone: 0719 600 400
About Izwe Loans Kenya
Izwe loans Kenya is part of the pan African specialist financial solutions provider, iZwe Africa Holdings.
The company started operations in 2004 in Pretoria, South Africa and has grown rapidly to become a lender of choice for many in Kenya, Mauritius, Zambia, South Africa, and Ghana.
In that relatively short period, Izwe has issued over 400,000 loans and raised more than Kshs.1.5 Billion in form of retail deposits.
The company has also sold over 100,000 diverse insurance policies.
Izwe is also a big employer and has more than 400 permanent employees working across the African continent.
Operations are led by top-notch local management teams who are effectively supported by specialists and strategic support heads from the Mauritius and South Africa offices.