Life is unpredictable and you can always find yourself in a financial fix….. Now, those are the situations the Saida loan app was created for.
And that means you won't have to bother your friends or relatives. Or be late for rent, school fees, or even delay settling that hospital bill.
Indeed, Saida can advance you as much as shs.25000, enough to restock your business.
Which brings me to the big question: How do you borrow a loan from Saida app?
Well, I will take you through the steps and thereafter answer all your questions about this brilliant loan app in Kenya.
Let's go:
How to borrow an instant soft MPESA loan from Saida Loan App in 3 easy steps
We will look at how to Install Saida, check your eligibility for loans, and lastly, how to make a quick loan application.
Step 1: Download saida loans app apk
Rush to Google Playstore in your phone.
Search for Saida (You type 'Saida') and click Install. You can as well click this shortcut to download Saida if you are reading this from your phone.
The app should finish installation in a couple of minutes. (Don't close the application)
Next, you will open the app to register/create your loan account. Follow the steps below:
Step 2: Setup your Saida Loan app account
If you haven't exited Saida, Click Open.
A welcome message is displayed together with some tips about using Saida. Just tap on I Accept to move on to the next stage.
Up next on your screen will be a detailed explanation about the various permissions that Saida requires to be able to process your loan. Read through and if you agree, click Next. Now allow each request one by one as prompted by the app.
You are then asked to type your Safaricom mobile number. Do that in the provided space. Remember that this is the number that your money will be sent to on approval so ensure it's registered for MPESA transactions. Click Get Started after keying in your number.
Now you will proceed to Create an account. Tap on Next to start off. This step is straightforward as you simply type the requested information, each on the availed space.
This includes your full names (as per your ID), ID card number, ID serial number, your date of birth, gender, and your active email address. Type each detail and click on Next.  It's important to be honest otherwise you'll jeopardize your chances of getting a loan.
Again Click Next as soon as you enter everything. Confirm this information and tap on Next to complete the account creation stage.
All that remains now is filling out the loan application form. You will do this as Saida verifies the details you have just shared with them.
Here are the specific steps…
Step 3: Fill the easy online Saida loan application form
To view the loan form, tap on the Apply Today button.
To confirm if you are eligible for a loan, complete all the sentences appropriately and truthfully. The form is in this format….
I am ____________ aged _______________ years old..etc
Be sure to click the arrow to select the options that applies to you where given.
At the end, click on Check if I qualify.
That's all. You will now wait for about an hour to get the results of the verification and your loan information.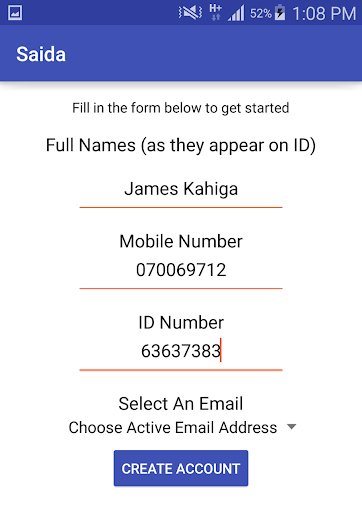 Sometimes Saida is quick and may inform you about your loan application status within less than one hour and how to get your cash via MPESA so don't fret.
If unlucky, Saida will advise you on the actions to take to qualify and when to re-apply.
I will now be tackling your other questions about the app including the terms and borrowing conditions…
Saida loan app interest and repayment period
Saida charges a loan facilitation fee of between 3 – 21% per month of the loan amount depending on your creditworthiness.
The company will communicate your applicable rate as soon as your loan is approved.
And while you can borrow up to kshs.25000 from Saida, your initial loan amount depends on your phone usage (SMS/Calls/Internet), MPesa usage, besides your social contacts.
The amount is to be repaid within 1 to 6 months (1 month for your first loan).
The period can be shorter or longer according to your credit rating as automatically computed by Saida from the data on your phone and other factors.
Moving on, Saida is lenient and won't charge you late payment penalties if you're, unfortunately, unable to repay your loan on time.
A one-time loan collection fee will, however, accrue if your loan remains unpaid for a period beyond 35 days.
In addition, loans late by more than 60 days may attract a penalty of 10% of the overdue amount.
Saida has no further penalties/charges, unlike apps like KCB MPESA which levies a daily penalty on overdue loans.
Having said that, the company behind Saida is quite patient and you can request them to extend your repayment period if stuck.
They will design a tailor-made repayment schedule to help you repay in easy installments.
In fact, you can even be given 3 months to complete your repayment!

How to pay Saida loans
Here is how to pay your Saida loan via MPESA:
Open MPesa.
Click Lipa-na-MPesa.
Choose Paybill.
Type Saida loans paybill number 854400
For the account number, type your mobile number.
Type the Amount to repay
Confirm the transaction details and send.
Saida will send you a confirmation text shortly.
What happens if I don't repay my Saida app Loan?
Your details will be handed over to one of the debt collection companies contracted by Saida for further action.
In addition, you will be listed at the dreaded CRB making it pretty difficult for you to secure loans from any institution or app in Kenya.
How to qualify for bigger Saida app loans
The easiest way to unlock bigger loans is to repay your loan on time.
Bigger loans also come at a cheaper rate so it's a win-win.
Saida also tends to favor loyal borrowers so if you can, make Saida your primary loan app for all your personal and business loan needs to qualify for more credit.
Requirements to qualify for Saida Loan
Not everyone gets Saida loans. Here now are some of the basic requirements to successfully borrow from the Saida loan app..
You must be over 18 years old.
You must not be blacklisted on CRB.
You must have a registered Safaricom line and be an active MPESA user.
You must also be in a position to repay the loan.
Saida Loan Customer Care and Other Contacts
If you wish to be assisted by the Saida loan app customer care during the download, loan application, or loan repayment, write them an email through hello@getsaida.com.
You can also use the Saida Help menu from inside the app to talk to the ever-smiling customer care guys.
Other contacts:
Facebook: https://web.facebook.com/SaidaCapital/
Website: http://getsaida.com/ (Visit website)
Saida Loan App Reviews
Saida has been helping Kenyans solve their financial emergencies through their instant MPESA loans since 2015.
They also provide other services including savings, insurance services, utility bills payment, and more.
The app has so far been downloaded more than 500000 times and has an average rating of 3+ stars in Google playstore from over 9500 customer reviews.
This implies that the majority of the clients are impressed with the app and their professionalism.
Most of the reviewers are actually all praises about the app not only regarding the app's credit facilities but also on the savings plan provided by the app.
Final thoughts
With its low-interest rates and forthright application process, Saida loan app can save you from the embarrassment of borrowing small loans from friends, workmates, or even relatives.
You start by downloading the app before completing the simple loan application form from the comfort of your phone.
Approved loans are disbursed within an hour making it ideal even for settling an emergency.
Try it today and let us know about your experience.
MORE LOAN APPS AND PERSONAL LOAN GUIDES: