Learn all about Jumia Seller Registration Kenya in this article (we will show you the steps)
If you want to make more money from your business, you seriously need to start selling online.
The good news is that there are so many online selling platforms today – from Jiji (Formerly Olx), Kilimall, PigiaMe, and even Masoko (By Safaricom).
But perhaps the biggest of them all- and the online marketplace you are likely to make most sales from -is Jumia.
In fact, Jumia is arguably the largest e-trading platform in the Kenyan market so selling via Jumia can be game-changing for your business.
And yes, selling your products on Jumia is far much easier and cheaper than creating your own website (which means building your own online clientele from scratch).
The best part? All you need to start selling on Jumia is registering as a seller.
So, how do you register as a Jumia seller in Kenya?
Below is a step-by-step guide on how to register with Jumia as a seller and start selling instantly…
Jumia Seller Registration Kenya – step by step
To begin with, let us look at the requirements to register online as a Jumia seller..
Requirements to register online as a Jumia seller
The following are the minimum requirements to register as an online Jumia seller:
Details of your business (Address, registered legal name, etc.)
Business registration number (you get this from the registrar of companies once you register your business name).
Email address and telephone number.
Your active bank account details.
This is important: You can only sell genuine and legally-permitted products on Jumia so ensure you are not dealing with counterfeits.
Something else: While Jumia occasionally allows vendors to list refurbished items (especially for products like computers and electronics in general), they love vendors selling new merchandise.
With that out of the way, let us now proceed to the actual Jumia registration process.
Jumia seller registration Kenya (process)
To get started, go to Jumia's sellers Center Sign Up page.
You can click this link: sellercenter.jumia.co.ke
Once there, you shall go through the following 4 stages…
Entry of your Seller Account information.
Entry of your Business Information.
Entry of your Bank Account details.
Confirmation of everything you have entered (a Summary of your information will be displayed and you will need to re-read and confirm everything).
Let us now go through each of the above Jumia Seller Registration Kenya stages.
Adding your seller account information.
The following is the information required under the seller account page:
Your shop name/ online display name.
This is the business name that you wish sellers to recognize you with while selling with Jumia online.
Declare whether your business is an individual/sole proprietorship, a company or a partnership.
Account manager information
Enter the full names (first + last name as per your ID card), telephone numbers- primary and secondary (just in case one is not reachable), and email address.
You must also type a strong password – this will be used by the person who will be managing your online shop to login to the website (It can be you or someone you have hired to act on your behalf).
Lastly, you need to Read and Agree to the terms and conditions of the Jumia E-contract (you confirm your acceptance by checking in the displayed checkbox).
Please note that the next registration step won't start if you don't agree.

Adding your business information
This is how you go about it:
First declare whether you have another shop(s) on Jumia, enter their names separated by semi colons (;) if they exist- (Be honest as Jumia may close your undeclared Jumia online shop if they discover you were dishonest)
Quick Note: Jumia will only allow you to open new shops for new brands/categories of products you have ventured into recently unless you have a very unique reason as to why you are opening a new shop.
Now, the information you are required to fill in will depend on whether you are registering as a company/business entity or as an individual.
To be clear, companies/business entities must fill in the following information to proceed with the registration:
Legal entity/registered company name.
Registered office address(all office addresses, if you have several).
Postal address of your registered office.
City/town of operation.
The country where your' legal entity is re-gistered.
Number of employees.
Business registration number.
Business information document (This should be your business registration certificate and it should be uploaded as an image, pdf file or Ms Word document). It should also be listing the company's ultimate beneficial owners and Jumia reserves the right to contact them to confirm their beneficial ownership.
Seller VAT number (a must) – enter your VAT registration number and upload a copy of your PIN certificate.
Country of origin if you'll be shipping the products you will be selling on Jumia to Kenya.
Refer to the screenshots below to see exactly what you need to enter as a business/company…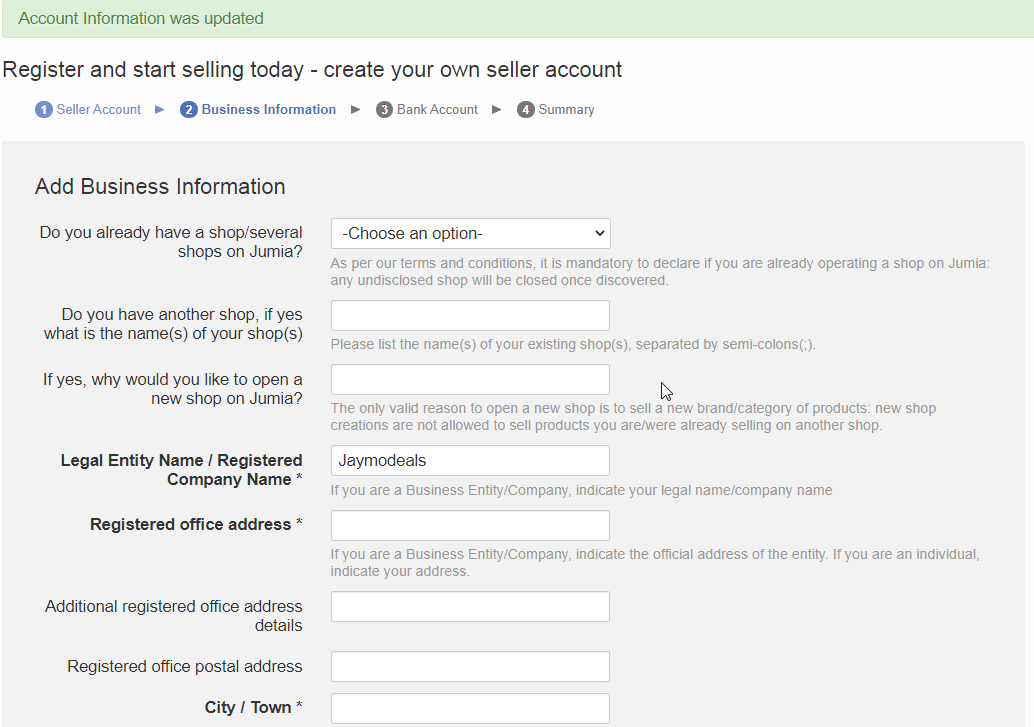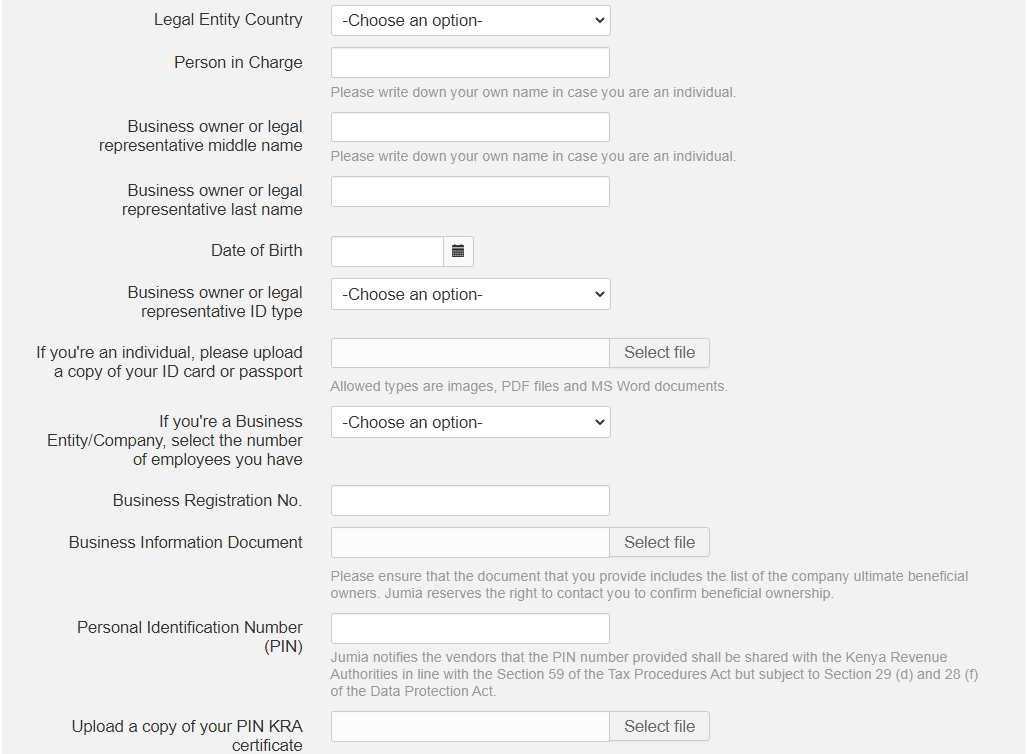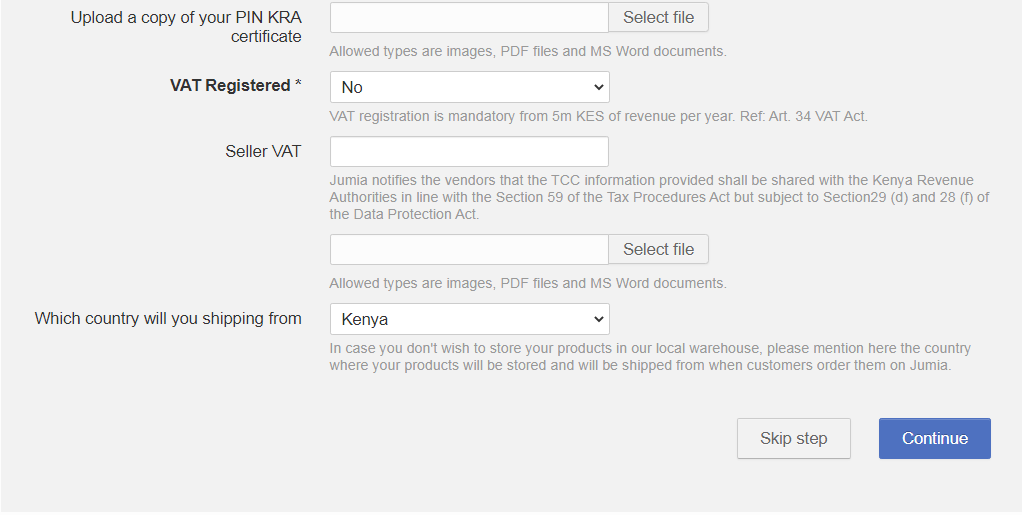 Complete everything and click continue.
On the other hand, individual sellers are required to fill in the following details:
Registered office addresses.
Your City/Town.
The country where your' legal entity is re-gistered.
Name of the person in charge.
Business owner/legal representative's middle and last names.
Date of birth.
ID type (National/passport) for either the owner or the legal representative and you must upload a copy.
KRA PIN (and again you need to upload its copy).
Country of origin if you will shipping products to Kenya.
Add your bank details
To complete your registration, you need to add your bank details on Jumia as follows:
Indicate your country level (Developed, middle economy or under developed- Kenya is under-developed).
State the payment options you prefer Jumia to use while paying you for goods sold there (MPESA or EFT services- direct electronic bank transfer).
Enter your registered MPESA name and number (if you want to be paid by MPESA)
Enter your bank account name, bank name, your account number, bank code, branch, SWIFT no., IBAN no., and then upload a copy of your bank statement (for those who prefer payment via their bank account). Remember that all these details can be obtained from your bank- call them, if necessary.
Click continue once done.
Again see the screenshots below..
Summary
Under the summary tab, re-read the information you entered and verify that it is all correct – Make the necessary changes if needed.
Once satisfied, finish the registration process by clicking Start selling.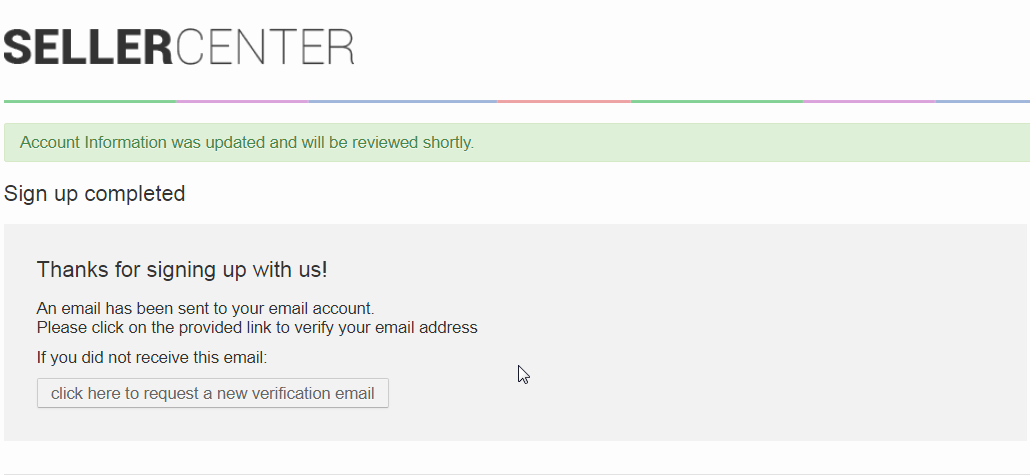 An email will be sent to the email address you provided- log in to your Gmail (or your email service provider) and click on that email to verify your account.
After logging in, go ahead and edit your Profile, if needed.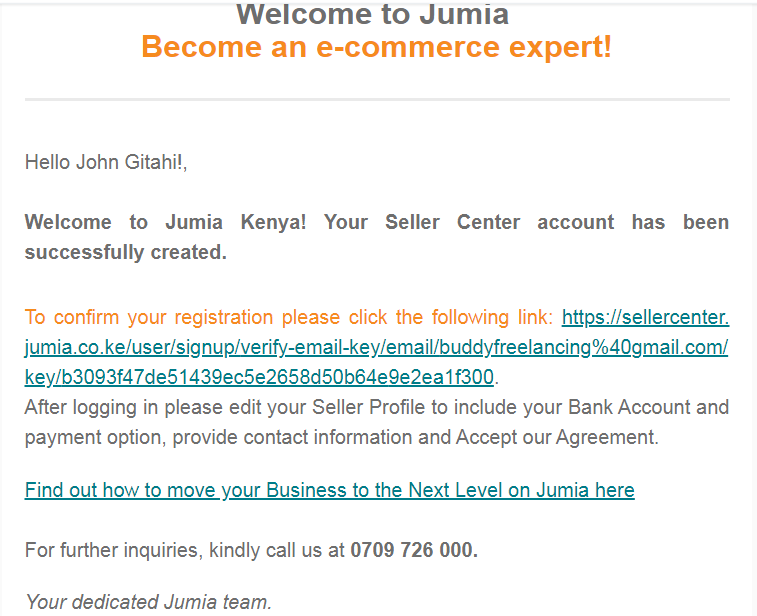 Once you click on that email, you will be taken to the Vendor's portal where you can begin uploading your products.
Please take time to study the seller's portal- there are a lot of resources there on everything about selling on Jumia (from boosting your products, content creation guidelines, and more).
Goods not allowed on Jumia
Goods such as cigarettes, adult toys, tobacco, animals, plants, explosives, weapons, some medical varieties, seditious materials, certain media and printed publications etc. are not allowed.
Training resources
Wrapping it up
You have just registered a new shop on Jumia and you can make extremely good money literary doing nothing (except delivering the products your customers order to your nearest Jumia hub for onward delivery to buyers).
Don't forget Jumia will allow you to sell only high quality products, of which they must be well packaged.
Also, remember the following:
Ship your orders (latest) by end of the next business day – Jumia hubs operate from 8.00am to 5.00pm (Monday to Friday) and between8.00am to 3.00pm (On Saturdays).
Maintain excellent Customer Experience – for example by shipping any Drop-Shipping packages within 24 hours and packing products professionally.
Check your Jumia Seller Center account daily to see if there are some new orders (also a new mail alert is usually sent to you).
We hope that this has been helpful.
We will soon be uploading a Video on YouTube demonstrating the entire Jumia seller sign up process for those who may need to see the steps on Video.
PS: As soon as your products are Live, you will be assigned a dedicated Business Advisor who will guide you for the next 30 days. All your inquiries and queries can be easily addressed as he/she will be your point of contact during that period.Below find links regarding packaging materials; cost and guidelines
ALSO READ:
Here is How To Sell on Jumia Kenya and Make crazy Money
Free Online Advertising Sites in Kenya To Sell your products 
Alibaba Online Shopping Kenya: Alibaba Agents In Kenya
How To Shop On Amazon While In Kenya