Swimming is not only quite soothing for your muscles but also great for your health. You see, because you will be moving your entire body against the resistance of the water, swimming works most of your muscles and will impact even critical organs like the heart positively. I don't even want to mention how fun swimming is for kids. Now, we have been looking at the various swimming pools in Nairobi.
Our interest? To see what each of the restaurants with swimming pools in Nairobi offers and whether there's value for money. We also wanted to discover other swimming leisurely swimming centers besides restaurants.
And after a month or so moving around, we were able to identify the top 10 heated swimming pools in Nairobi.
Here they are:
Top 11 Swimming Pools In Nairobi
·       Heated Swimming Pools In Nairobi
Here you can swim all season regardless of the weather as the facilities are nicely heated.
Meridian Hotel Swimming Pool
The Meridian Hotel has been traditionally been a Nice place for a family outing during the weekend or holiday. And now they have one of the best hot swimming pools in Nairobi.
The rooftop swimming pool gives you a nice view of the surroundings and you can even have your lunch on the poolside.
The swimming attendants are awesome as is the cleanliness all around. The wi-fi signal is strong so you can keep up with your pals on social media even as you take a break from the nicely heated pool.
In short, the meridian hotel swimming pool Nairobi gives a memorable experience. It's also fairly affordable.
Sarabi Pool & Supper Club
Another amazing facility, Sarabi pool & Supper club swimming pool is rated as a one of topmost heated swimming pools in westlands Nairobi.
The lovely ambience, excellent poolside service, and the perfect engineering makes this roof top open-air pool deck a must visit for the family or couples looking for a fantastic time.
It's of course part of the famed Sankara hotel so you can expect an outstanding.
Whether you are looking at Enjoying a refreshing early morning swim or to unwind after a hectic day at work, this heated swimming pool got your needs covered.
Towels, sun loungers, and everything else is provided.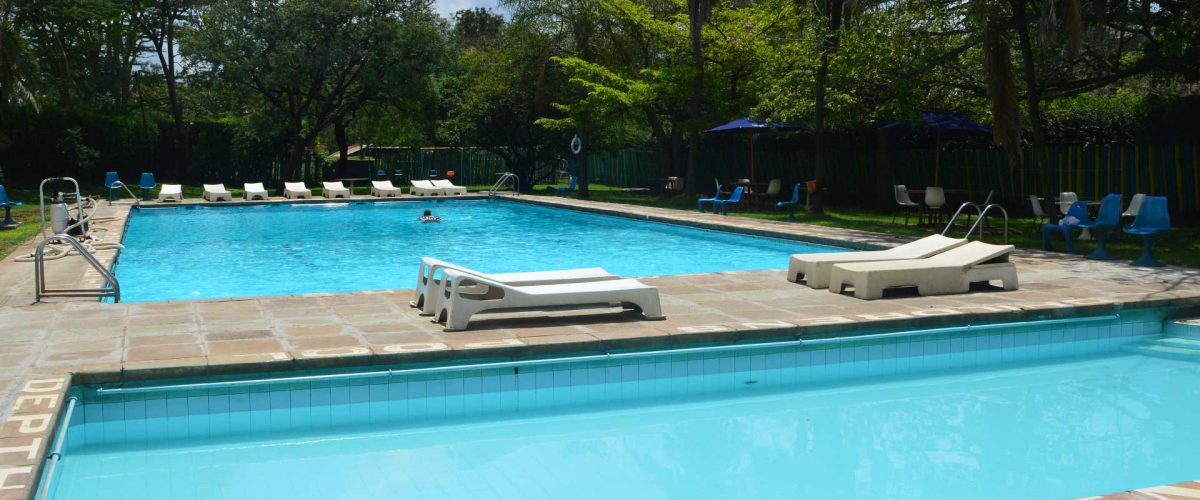 3. Hotel Intercontinental Swimming pool
This is absolutely among the most popular heated swimming pools in Nairobi. Its super Clean, well-organized, and above standard.
The location, just behind city hall is very convenient for many people.
Charges start at shs.1500 and shs.1000 for adults and children respectively. You will also enjoy delicious cocktails at the main 5-star hotel facilities.
It's exceptional as far a wholesome family experience is concerned
TIP: the Panari Hotel, Serena Hotel, Cloud 9 (Near Sarit center, Westlands) and Windsor golf hotel are the other gold standard heated swimming pools in Nairobi
·       Private Swimming Pools In Nairobi
These facilities are privately run but open to the public and offer top class services.
Chester House Swimming Pool
This is among the number 1 private swimming pools in Nairobi. Located in Chester house (Koinange Street), in the CBD, the pool has been earning rave reviews not only because of the price (Its shs.500 per day) but also because of its high standards.
It's again an open rooftop pool and has very friendly staff.
Additionally, Chester house provides a panoramic view of Nairobi so there's more than just swimming.
Premier Club Swimming Pool
Premier club swimming pool also has a burgeoning reputation.
The pool is big enough and the place neatly maintained.  The pool is located just opposite Nairobi Gymkhana in the wider parklands area.
There are even swimming galas during school holidays where participants win medals.
Makini School Swimming Pool
Here you will meet a committed coaching staff and lots of fun. We also loved the way the way the whole place is maintained, the cleanliness, and the security.
They also organize thrilling swimming competitions occasionally and it's undoubtedly a memorable place for kids.
What's more?
The pool is spacious and heated so you can enjoy a warm swim even when Nairobi is chilly.
Phone: 020 3874950
4.  Bellevue Primary School Swimming Pool
I rate this as my personal favorite not just because of the beautiful surrounding but also the impregnable security.
The pool is in addition affordable and quite large. Overall, this could be Nairobi's best-maintained pool at least in the wider Nairobi west area.
Phone: 0721 972567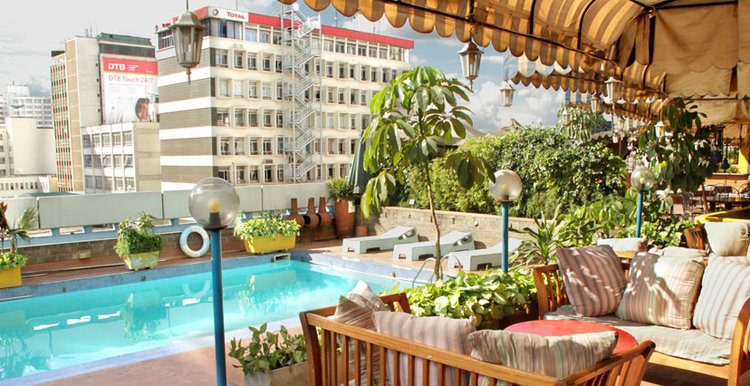 Public Swimming Pools In Nairobi
Now meet the most stunning public swimming pools in Nairobi. Here you will get a good swim without breaking the bank.
MOW Swimming Pool
Situated on Muhoho Ave, Nairobi, MOW swimming pool Nairobi has over the years build a great name because of quick service, a top warm pool, and its vintage feel. The Changing rooms are situated proximate to the pool while the Shower works well.
The neighboring baby pool is always buzzing with excited kids with the experience life guards keenly keeping an eye on the swim-mates.
At the same time, the main pool is quite big and empty while the poolside chairs look inviting.  If you have a friend who hates the water, they can be whiling away time in the basketball court or the standard tennis court. Finally, the facility provides ample parking.
Phone: 0713 163464
Kasarani Aquatic Stadium
Whether you are looking for the best swimming lessons in Nairobi or are a veteran who is looking at having a great time, Kasarani aquatic stadium is a brilliant place to be.
And it's no wonder that this is one of the busiest swimming pools along Thika road considering it's a government-run pool.
The other attraction includes the cheap kasarani swimming pool charges(They start at shs. 200 per person, some weekdays shs.150), the kind attendants, and the many guests (for those who like to mingle).
As expected, all the pools- the standard pool, warm up pool, and the diving pool are all excellent.
YMCA Swimming Pool Nairobi
Now, if you're looking at getting a good swim while making good savings, then you should consider any of awesome public swimming pools in Nairobi, led by the YMCA swimming pool Nairobi branch.
This pool facility surprises patrons with its pocket-friendly fees despite delivering an incredible treat for guests.  And everything here is reasonably priced: From the food and snacks all the way to the accommodation, you will make massive savings.
Besides the pleasant facilities and the welcoming environment, the centers outdoor setup is up there with the best.
Well, maybe they should touch up the interior decor a bit but otherwise, it's a marvelous place to swim.
Nyayo Stadium Swimming Pool
This remarkably big swimming pool has very active lifeguards plus it's also kind on your pockets. Be ready to meet top competition if you would like to test out your swimming skills.
 Conclusion
Those are the best-rated swimming pools in Nairobi as of today. Now head out and treat yourself in your favorite.
PS: If you would like us to feature your best-loved swimming pool in this list, kindly drop us a comment in the comments area below. We will be happy to look at it.
ALSO READ: Top Places To Visit In Mombasa And Mombasa Travel Guide